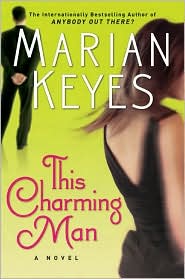 Click on the book cover to read my review and see what grade I gave This Charming Man.  Below is a synopsis of the book
With This Charming Man, Marian Keyes hits her stride as a novelist with her best novel yet, telling the stories of four women who are shaped by one man.
Paddy de Courcy is Ireland's debonair politician, the "John F. Kennedy Jr. of Dublin." His charm and charisma have taken hold of the country and the tabloids, not to mention our four heroines: Lola, Grace, Marnie, and Alicia. But though Paddy's winning smile is fooling Irish minds, the broken hearts he's left in his past offer a far more truthful look into his character.
Narrated in turn by each woman, This Charming Man explores how their love for this one man has shaped their lives. But in true Marian Keyes fashion, this is more than a story of four love affairs. It's a testament to the strength women find in themselves through work, friendship, and family, no matter what demons may be haunting their lives. Depression, self-doubt, domestic abuse—each of these women has seen tough times in life, and it's through Keyes's wonderful storytelling ability that these subjects are approached with the appropriate tone and candor. Her deft touch provides a gripping story and, ultimately, a redemptive ending.
Hits: 260
Book Room Reviews BOOK ROOM REVIEWS - BOOK REVIEWS & WRITING TIPS | VISIT NOW Copyright (C) http://www.bookroomreviews.com. Read more at... 
http://www.bookroomreviews.com/
 .