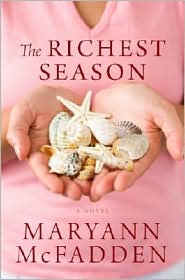 Click on the book cover to read my review and see what grade I gave The Richest Season.  Below is a synopsis of the book!
After more than a dozen moves in twenty-five years of marriage, Joanna Harrison is lonely and tired of being a corporate wife. Her children are grown and gone, her husband is more married to his job than to her, and now they're about to pack up once more. Panicked at the thought of having to start all over again, Joanna commits the first irresponsible act of her life. She runs away to Pawleys Island, South Carolina, a place she's been to just once.
She finds a job as a live-in companion to Grace Finelli, a widow who has come to the island to fulfill a girlhood dream. Together the two women embark on the most difficult journey of their lives: Joanna struggling for independence, roots, and a future of her own, as her family tugs at her from afar; and Grace, choosing to live the remainder of her life for herself alone, knowing she may never see her children again.
Entwined is Paul Harrison's story as he loses his wife, his job, and everything that defines him as a man. He takes off on his own journey out west, searching for the answers to all that has gone wrong in his life. One thing remains constant: He wants his wife back.
Joanna, however, is moving farther away from her old life as she joins a group dedicated to rescuing endangered loggerhead turtles, led by a charismatic fisherman unlike anyone she's ever met.
Hits: 293
Book Room Reviews BOOK ROOM REVIEWS - BOOK REVIEWS & WRITING TIPS | VISIT NOW Copyright (C) http://www.bookroomreviews.com. Read more at... 
http://www.bookroomreviews.com/
 .