Karen Harrington was born and raised in Texas, where she still lives with her husband and children. She received a B.A. in Interdisciplinary Studies from the University of Texas at Dallas.Karen's first writing gigs were in corporate America as an editor and speechwriter. Her fiction writing has been recognized by the Hemingway Short Story Competition and the Texas Film Institute.She authored and published There's A Dog In The Doorway, a children's book created expressly for the Dr. Laura Schlessinger Foundation's

"MyStuff Bags." 

"My Stuff" bags go to children in need who must leave their homes due to abuse, neglect or abandonment




Karen also supports and advocates the proliferation of Crisis Nursery Centers designed to provide free child-care to families in emergency situations. Click here to read an article about crisis nurseries and find out if there is one near you
Visit me on Myspace:

Visit my publisher:     
www.kunati.com
1. What book are you currently reading?
The Story of Forgetting by Stefan Merrill Block
2. I am fascinated by book covers, could you tell us about yours and the meaning of it.

The more I studied the JANEOLOGY cover, the more I noticed subtle elements. You can see the various DNA strands across the book. The idea of nature and nurture is examined throughout the entire novel, so I love how this is represented in the cover. And then there's the young and the old woman's faces. Then you say, hey, it's not an old woman at all. It's a woman from another era. She's one of Jane's ancestors. Brilliant! Because JANEOLOGY is a novel-in-stories linking eight of Jane's ancestors, I found the modern/period woman contrast incredible. And then, in the top right, you see a very faint image of Da Vinci's Vitruvian Man. The story itself is so layered with history and connections through time and the cover reflects that in a way I could never have imagined.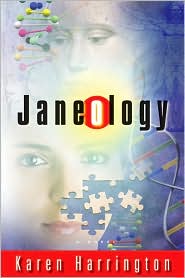 3. If you could say anything to your readers what would it be?

Thanks! No, really, that sums it up. The very notion that I have readers – not, a reader (sorry, mom) – is still very much a thrill to me. 

 

4. Our website is called Bookroom Reviews. Could you tell us about your bookroom or area (describe it, what are your favorite things in it, favorite books in it) Or if you want to send us a picture of it that would be great to go along with the description!

My wonderful hubby put up floor to ceiling bookcases in my office closet last year. This is the first time in my life that all my books are together and somewhat organized. I have a few first editions among my beloved books from Samuel Clemens and Ernest Hemingway that are special to me. And then, I have an old Underwood typewriter on the shelf that I love. I like imagining what words and ideas have passed under its keys before I owned it.
Hits: 164
Book Room Reviews BOOK ROOM REVIEWS - BOOK REVIEWS & WRITING TIPS | VISIT NOW Copyright (C) http://www.bookroomreviews.com. Read more at... 
http://www.bookroomreviews.com/
 .