Raising readers is very important to my husband and I.  Children who grow up in homes where books are plentiful go further in school than those who don't.   This is just one fact of many more that research shows how important reading is for children.
I was very excited to team with iVillage, PBS and Scholastic to hold a Summer Reading Kick off Party with my son Nolan's classroom of first graders.  They were absolutely thrilled too!  I was impressed at how excited they were to receive a free book, bookmarks and a summer log to keep track of their books read this summer.  You can participate with your children and get the same fun summer logs and reading activities to keep your children reading this summer too.  Thanks to the companies below, it is all free and cool enough that kids will love it just as much as parents.  The information is below on how to sign up, plus each website has even more reading challenges, prizes and ideas for free!  Nolan and I signed up for all of them and will be reading to Noah, my one year old too.   I made a video of the cutest readers ever, from Mrs. Ryan's first grade class.  They wanted to share their recommendations of their favorite books and invite you to keep reading this summer because, "READING IS FUN!"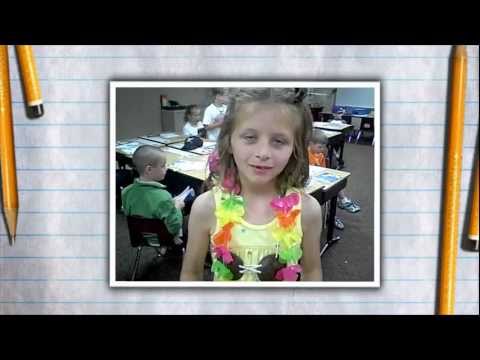 Mrs. Ryan's Class Summer Reading List Suggestions:
BFG by Ronald Dahl
Diary of a Wimpy Kid by Jeff Kiney
Junie B Jones books by Barbara Park
One Fish Two Fish Red Fish Blue Fish by Dr Seuss
The Lorax by Dr Seuss
Martha Speaks Books by Susan Meddaugh
Ready Freddy Books by Abby Klein
All Star by Jane Yolen
ALL BOOKS!
Get your kids reading this summer!  iVillage has teamed up with PBS KIDS Raising Readers to create a free 6-week program to help children discover the joys of reading. Sign up with your e-mail and you'll receive:
A daily email with fun activities to build reading skills
Tricks and advice from your Challenge coach
Great book suggestions for kids of all ages
Tips from other parents taking the challenge
A chance to win daily prizes
Invite your friends to take the Challenge with you!  And be sure to visit iVillage on Facebook and Twitter, or stop by our Challenge message boards to start sharing reading tips with other parents now.
The challenges begins June 6, but you can get a sneak peek with these summer reading resources from PBS:
Games
Parent Resources
Bookfinder
Find even more activities to share with your children, courtesy of our Challenge partners:  Scholastic
The iVillage PBS KIDS Summer Reading Community Challenge begins June 6 and features free literacy-building resources for parents and children designed by the experts at PBS Parents and PBS KIDS.  Challenge Coach, Angela Santomero, Creator, Executive Producer and Head Writer of SUPER WHY!, will provide daily reading activity assignments, answer parent questions and offer advice throughout the online event. Guest coaches such as cast members, characters, authors and series creators from PBS KIDS will also provide activities and ideas each week.  PBS KIDS will also offer other summer literacy resources on-air and online, with themed weeks airing on PBS KIDS, as well as online tips and resources for parents to use with their children this summer. For more summer reading resources, check out PBSParents.org/read.
disclosure: I was provided a party pack of reading products to pass out.  All of my opinions are 100 percent honest and only mine.